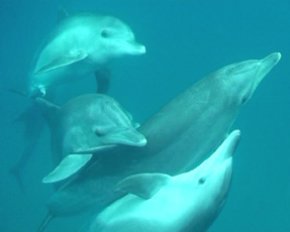 browse (1 / 2)
The calm blue depths of the ocean waters at Ponta da Ouro in Mozambique, just 2 hours from Kruger Park will overwhelm you. The majesty of the unknown appears to you in flashes of brilliance, silver slivers glide past you in the electric blueness; you are swimming side by side with the calmest and friendliest creatures of the ocean... dolphins.
Electric waves are being transferred beneath the veneer of the sublime: your endorphins are being stimulated through brain wave changes by interacting with these majestic creatures of the deep – energy transfer that stimulates happiness; the mysterious gift of euphoria given by these friendly creatures.
Ponto da Ouro is the most southern town in Mozambique, located on the border with South Africa. It is a 6 hour drive from Johannesburg, a 2 hour drive from Kruger National park and just 4 hours drive from Durban. Ponto da Ouro provides the opportunity for this awesome experience.
Dolphin Care-Africa (DCA), a non-profit organization that funds education, conservation and investigation in Mozambique, brings you nearer to these majestic creatures of the deep with their 'swim with dolphins' programs.
Some of the different species that you will see include: the curious Inshore Bottlenose Dolphin, the shy and elusive Indo-Pacific Humpback and the beautiful Spinner Dolphin. The Bottlenose Dolphin evinces a social personality, seeking out interaction with humans. You will be awed as you are transported to another dimension, swimming with these amicable creatures, guided by the dolphin guides and observing their often curious and amusing behavior in their natural habitat.
Dolphins' sonar frequencies are high enough to alter cellular structures and in doing so positively influence the general state of well being within us. The closeness that you experience to nature by interacting with dolphins is the closest to oneness that humans might experience. Your theta and alpha brain waves are affected, bringing you closer to a wakened-dream state, opening the gate-way to the intangible state half way between consciousness and sub-consciousness. Your alpha brain waves will be affected, resulting in bringing your mind relaxation by evoking movements within the deep of your body of 'nothingness'; bringing you closer to a meditative state. Increased self-esteem and peace of mind are the natural result of swimming with dolphins.
The swim facilitator leads groups of four to six people to a dolphin pod, observing the behavior of the pod. If the dolphin pod evinces avoidance, the group will leave the dolphins alone. However, as you enter the dolphins' domain and attract the pod's attention, the dolphins may approach you with a "circle swim", spherically rounding you over and over again, playfully provoking a response. You then join in, dancing a royal dance with these imposing creatures of the deep. Swims last 20 minutes and unfortunately you will have to refrain from touching the dolphins under national law.
Gliding in this serene world with creatures of the deep brings you peace of mind, and provides nourishment for your soul. Feel the connectedness while swimming with dolphins at Ponto da Ouro.
This program is an ideal dolphin getaway with lots of spare time to sooth the soul and cherish special moments together. Great for family's, team-building, corporate and holistic based tours.
Full Eco-Tour Programs Includes
Accommodation in Rustic Wooden Casitas on the beach at the Dolphin Beach Camp
Nutritious and wholesome Brunches & Dinners prepared by the resident chefs (one night you enjoy a meal out in the village
Pre-booked daily dolphin interactions with our dedicated Team, daily water time +/- 120min
Swim Facilitation for young, weak, the elderly & handicapped
Educational Dolphin Presentation
Full Code of Conduct and Briefings
DolphinCare-Africa Gift-pack for adults and Dolphin Kidz
% of Tour goes to DCA for research and conservation.
Subject to a minimum of 6 and maximum of 12. Snorkeling gear is not included in the price; gear is available for hire at a rate of R100 for the tour. To Book this tour click on Dolphin Encounters below. For more accommodation in Ponto da Ouro see Ponta do Ouro accommodation