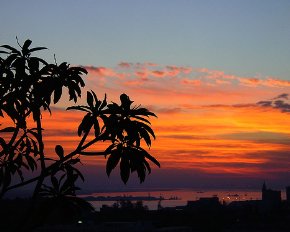 browse (1 / 3)
In the heart of the bustling, energy-charged streets of Maputo, between wide avenues lined kaleidoscopically with the contrasting purples and greens of jacaranda palm trees, Jardim Tunduru Botanical Gardens provides welcome respite. The gardens were designed by Englishman Thomas Honney in the late 19th Century. Exploring Maputo on foot provides rich reward to the curious traveller, and stumbling on the Jardim Tunduru Botanical Gardens enriches travellers with shade and enchanting serenity amidst beautiful sub-tropical surroundings. The entrance of the gardens is presided over by a statue of Samora Machel, the first president of Mozambique.
Discovering Maputo by foot also gives travellers a chance to drink coffee in languorous street-side cafes, or dine, al fresco, in the cool evenings, watching the sun sink below the horizon. While exploring other attractions such as the Cathedral in Independence Square, the Natural History Museum and various statues that watch over the city, a break at the Jardim Tunduru Botanical Gardens is most welcome.
Taking a day out of any Mozambique vacation that is complete with soft, sandy beaches; diving and snorkelling; to explore Maputo on foot is well worth the experience, and an ideal way to discover the intriguing, sometimes fierce and colourful historical and cultural heritage of Mozambique. Picnicking in the gardens is the perfect way to have lunch while in the city. Visitors will also be surprised to discover tennis courts within the gardens, and a restaurant, where visitors may enjoy a refreshing cocktail, or a light meal.