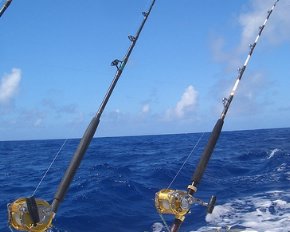 browse (1 / 2)
With its expansive white sandy beaches, nature at its best, Mozambique and its surrounding islands have been an attraction for the typical sun worshiper as well as the water sports enthusiast. From the holidaymaker down to competitive sports, Mozambique calls out in its own unique voice.
With this in mind, it should be mentioned that the words "Big Game Fishing" and Mozambique are almost synonymous with each other. For close to 50 years, Big Game Fishing has been a major attraction in Mozambique and consistently draws the die-hard fisherman back, year after year. The variety and abundance of species in this area is out of this world leaving the big game and fly fisherman in awe of this beautiful place and since fishing is excellent all year round it may become difficult to find a reason to leave.
In addition to the wonder of Mozambique itself there are its 5 islands: Bazaruto, Benguerra, Maraque, Banque and Santa Carolina which lie along the historical Moçambican channel. Bazaruto is the premier fishing destination in Mozambique and offers Big Game Fishing on a world class level. Mid September until the end of December is the best time for Marlin fishing while Sailfish abound from April to August. Other smaller game fish such as the King Mackerel, Bonito, Travelli, and Queen Mackerel are available all year around. The "Tag and Release" principle is typical in these parts due to an ongoing Conservation project.
On the other hand, if you are more adventurous and are looking to discover a new species, there is always Pemba Bay. It is an almost untouched fishing area and its real potential is largely unknown. With tourism on the rise, however, this little spot won't be left alone much longer and has already started being opened up to the Big Game fisherman.