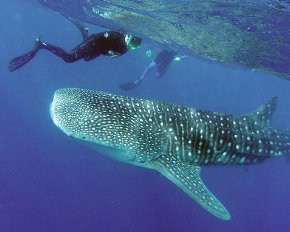 browse (1 / 2)
Mozambique has, internationally, a reputation for the best marine life in the most beautiful setting. It is here that visitors will be amazed that it is indeed possible to go snorkelling with Whale Sharks. One of the best places for this is in Tofu Bay. Tofu Bay can be accessed from Inhambane by dhow or motorboat from the town of Maxixe. It has a huge stretch of absolutely golden sand dunes backing a pristine beach which surrounds a crystal clear bay with lodges hidden behind the palms giving the impression of completely untouched land. It also happens to sport the best diving available in Mozambique. The reefs off of Tofu Bay offer the opportunity to visitors to snorkel with Mantas and Whale Sharks year round. The main whale shark season is actually from November up until May but sightings are made throughout the year.
The completely surreal experience of snorkelling with Whale Sharks is one not to be missed. These graceful creatures are the biggest fish in the sea, look like sharks and are the size of a whale. They can reach up to 12 meters in length and get to about 20 tons. Whale Sharks are incredibly fascinating creatures that are huge but harmless. They have no known predators, except for humans and are actually hunted for their soft meat, particularly in Taiwan.
Specific guidelines are given to visitors who wish to go snorkelling with Whale Sharks as to how one should interact with these creatures and the PADI Whale Shark Awareness specialty course is also available for visiting divers that would like to know more about this sublime creature. Come and take a journey into the blue world beneath the surface and meet these awe-inspiring beasts in Mozambique.