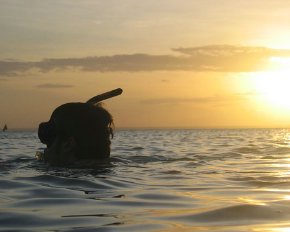 browse (1 / 3)
Portuguese Island is an idyllic, uninhabited island off the coast of southern Mozambique near Maputo, and the perfect escape for day trips that allow you to explore untouched endless white beaches; swim; snorkel in shallow, blue sub-tropical waters and explore coral and exquisite marine life.
Snorkeling at Portugese Island is a thrilling, adventurous, and yet serene experience. Take a refreshing dip in the placid, serene waters of the Indian Ocean, or (goggles on, snorkel up) explore the untouched beauty of magical, underwater coral kingdoms pulsating with colours and exotic fish. Explore eerie shipwrecks that punctuate the coast that bespeak the ghosts of adventurers past in this sub-tropical paradise – only the ocean knows the supernatural purposes that these once-afloat, once-full-bodied, now vacant vessels once had. Trips to Portuguese Island also reward the adventurer with thriving island bird life and paradise-like surrounds. Walks and trails through the dense vegetation, accompanied by breathtaking scenery, await exploration.
Visibility in the lagoon at Portuguese Island is superb, and the conditions are ideal for first-timers and amateurs alike. Snorkeling usually takes place in the warm, amicable waters of the lagoon, but adventurous souls may choose to drift slightly off the coast of the island to explore the spectacular reef. Snorkeling at Portugese Island is the ideal complement to your holiday spent lounging on idyllic beaches, enjoying sun downer cruises in the amber glow of sunset or even swimming with dolphins. Visitors will suddenly find their souls at peace in the beautiful, refreshing waters of Portuguese Island.