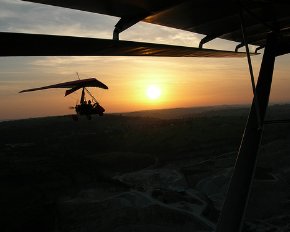 browse (1 / 3)
Mozambique has a myriad of exciting activities on offer. One of them is the thrilling opportunity to get higher than everything else, except maybe an eagle - which you shouldn't be surprised to see flying next to you either in this case …
This is the absolutely amazing opportunity to explore the region from the vantage point of a microlight. Watch the shoreline zooming by in a blur of vibrant colour or slow down and fly lower to look for interesting spots to explore.
The advantages of seeing the sights from a microlight are its ability to fly really low if necessary and also its amazing maneuverability. Flips can be made easily over points of interest with a panoramic view that you can simply breathe in as you float by. Spot dolphins, whales and even the odd turtle from the sky and swoop in low to take a closer look. The microlight allows you the freedom to explore Mozambique to the fullest without being tied to how much ground you can possibly cover in one day. You can see more in one hour in a microlight than most people on the ground will see in a whole day. This can be especially rewarding if you have a fairly limited amount of time on your hands.
Search the shores, expansive wetlands and amazing mangrove forests for the perfect place to put down. Become a part of nature, and soar with the eagles while you take in the absolute beauty that is Mozambique.