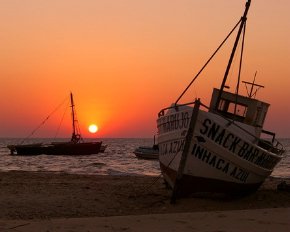 browse (1 / 4)
Daily boat trips to Inhaca and the Portuguese Islands of Mozambique bring you closer to the essence of Mozambique – with breath-taking tropical islands lined with never-ending, idyllic white beaches, unspoiled coral reefs to snorkel and dive, and picturesque views with which to enjoy sundowners, Inhaca and the Portuguese Islands are some of the most treasured gems of Mozambique.
Inhaca is ideal for divers: staghorn and plate coral teeming with tropical and game fish, dolphins, whale sharks and manta rays, shark diving and ship-wreck diving are some of the attractions that make Inhaca and the Portuguese Islands world class diving destinations. Water temperatures vary between 22°C and roughly 30°C, and year-round visibility averages at 15m. Up-close encounters with ragged-tooth sharks, whale sharks and rare tropical fish leave you breathless. Walks and trails through the forest provide you with up-close encounters with exotic birdlife and vegetation. Local culture is rich in colour and diversity.
Spend the day snorkelling, exploring untouched paradise-like beaches, visiting the lighthouse at Inhaca, the Marine Biological Centre, or rent a bicycle and saunter along the peaceful avenues with magnificent views of the Indian Ocean. Game fishing is another favoured activity. Evenings draw in with spectacular sunsets to be enjoyed with a sundowner on a dhow cruise. Accommodation is available on Inhaca islands. Daily boat trips to Inhaca and the Portuguese Islands of Mozambique typically include swimming and snorkelling at Portuguese Islands followed by a sumptuous traditional seafood lunch at Inhaca and the rest of the day spent touring Inhaca.