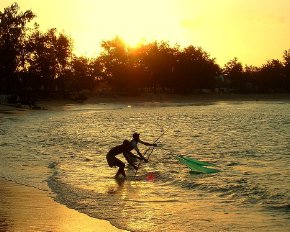 browse (1 / 2)
The eastern coast of Mozambique offers some of the most exotic locations for deep-sea and fly-fishing. White, sandy beaches contrasted with alluring azure-silver waters of the Indian Ocean lend the setting to some of the most enchanting sea-side fishing getaway locations. Fishing camps are found along this eastern coast near Inhabane and Vilanculos. These camps are the ultimate gateway to early morning fishing with the locals in Mozambique.
Lodges offer thatched chalets with porches that lead onto the beach, allowing expansive views of the Indian Ocean during the days and evenings spent sipping sundowners. At night, the night sky is ablaze with gems, and the surrounding tropical environs lend to an enchanting experience. Meals are taken under open night skies, or by candle-light, typically including fresh seafood, such as the famous Mozambican peri-peri prawns, or even sumptuous steak.
In the early morning, the fresh sea breeze greets visitors as they wake to the sound of waves crashing on the shores. Early morning fishing with the locals is one of the most rewarding experiences. Big and small boats may be hired to go deep-sea fishing. Deep-sea fishing is particularly rewarding, with the opportunity to catch Barracuda, Kingfish, Queenfish, Dorado, Scope, Marin, Sailfish and Bonito. An alternative to hiring a boat is to stand alongside the locals, and fly-fish from the shore. Other activities during the day include snorkelling along the coast in the cool, blue waters. Dolphins, whale sharks and humpback whales are known to frequent the coastline.