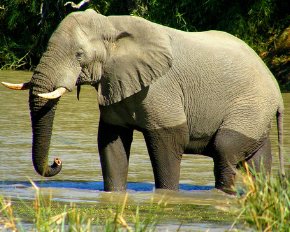 browse (1 / 4)
Off the beaten trail, 79 kilometres south of Maputo, lies Maputo Elephant Reserve, an unspoiled region of vast, rugged beauty. The Maputo Elephant Reserve should be visited by those travellers with 4x4 vehicles, as agents do not currently operate in the area. As Mozambique opens its borders to international tourists once more, in the wake of the civil war and a newly-booming local tourist economy, the thrill of visiting the Maputo Elephant Reserve lies in its unspoiled nature.
The reserve forms part of the Lubombo Transfrontier Conservation Area, a collective of national parks from South Africa, Mozambique and Swaziland. The park has over 200 elephants. Visitors may expect to drive on trails through the bush that is punctuated intermittently by marshes, rolling grasslands and forests along that thrive along the two rivers in the park. A visit to the Maputo Elephant Reserve also richly-rewarding for bird-lovers – the lakes of the park teem with many varieties of southern African birds. Zebra and antelope roam the plains, while crocodiles and hippos inhabit the watering holes and lakes.
By far the most interesting feature of the park is the elephant population. Close encounters prove both thrilling and serene. The teeming bushveld is lined by the pristine shores of the unmistakably Mozambican coast, with its unending white sandy beaches and Indian Ocean waters. A few days spent in Maputo, the capital of Mozambique, is a rewarding experience, with bustling streets, rich cultural diversity, street-side cafes, great restaurants and intriguing museums.