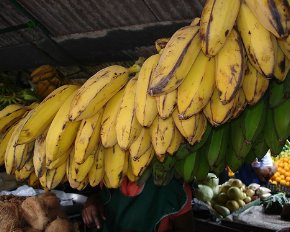 browse (1 / 3)
Maputo, once considered as little more than a stopover on the way to the tropical beaches of Mozambique, is coming into its own and is now thought of as an ideal destination for exotic weekend adventures. Business is booming, and the city is growing with new buildings going up at an alarming rate. The city resonates with its distinct Mozambican charm. At the heart of Maputo is the Central Market.
The Central Market offers the visitor to Mozambique almost anything their hearts could desire: fresh fruit, veggies, curios, and anything else you could possibly think of. While there are many stands inside the actual building in which the market is housed, the stands that spill out of the building form an extension of the original beyond the roof and the wares literally spill out of the gigantic, yet very beautiful, building. The Central Market is truly a hub of activity with handicrafts, basketware and carvings as well as many household items for everyday use on offer.
The people of Mozambique are very friendly and it is in this environment that one can make friends easiest. You can bargain with the locals, or get advice as to how to prepare certain meals and which fruit are the best to buy and when. While the absolute beauty of this country and its culture is so aptly brought across in the Central Market, the desperate situations that many live in also come to the fore with pickpockets running rampant within the market. Visitors are urged to ensure that all their valuables are concealed from view and safe from roaming fingers.